UK's electricity system has more than halved its carbon intensity in the last decade, decarbonising twice as fast as any other major economy, demonstrating the UK's climate leadership ahead of COP26.

The rise of renewables means British households have reduced their CO2 emissions by three quarters of a tonne per year – equivalent to the CO2 emitted when a family of four flies off on holiday to Spain.

New ambitious targets to grow offshore wind to 40 gigawatts by 2030 in the UK will require the expansion of energy storage technologies able to capture excess power.
Independent analysis conducted via Imperial Consultants, by academics from Imperial College London for Drax Electric Insights shows the UK's move away from coal to renewable power sources, such as biomass and wind, has dramatically driven down carbon emissions.

Renewable power has grown six-fold in the last decade, helping the UK to cut its carbon intensity by 58%. This is double the reduction seen in other major economies over the same period.

Generation from coal fell from 30 per cent to just two per cent of power produced over the period, with renewables rising at the same time, from eight per cent to supplying 42 per cent of the country's electricity.

The changes to where our electricity comes from means British households have each reduced their CO2 emissions by three quarters of a tonne per year compared to the start of the decade, which is roughly equivalent to the CO2generated by a family of four taking a return flight from the UK to Spain.
Dr Iain Staffell of Imperial College London, and lead author of the quarterly Electric Insights reports, said:
"The UK has decarbonised its power grid at an astonishing rate. Over the last decade the country has transformed itself from relying on coal to keep the lights on, to having its first coal-free month since the industrial revolution. While this progress in the power sector has been rapid, we now need to decarbonise wider society by using electricity to heat our homes and power our cars to achieve net zero by 2050. As the world marks five years since the Paris Agreement the UK offers an example of how fast energy transitions can be made."
The UK's power system is set to grow even greener after the Prime Minister set a new target of installing 40 gigawatts (GW) of offshore wind by 2030. However, the Drax Electric Insights report also outlines the need for the UK grid to become more flexible to deliver this ambition, with careful management required to keep the system stable once this ambition is realised.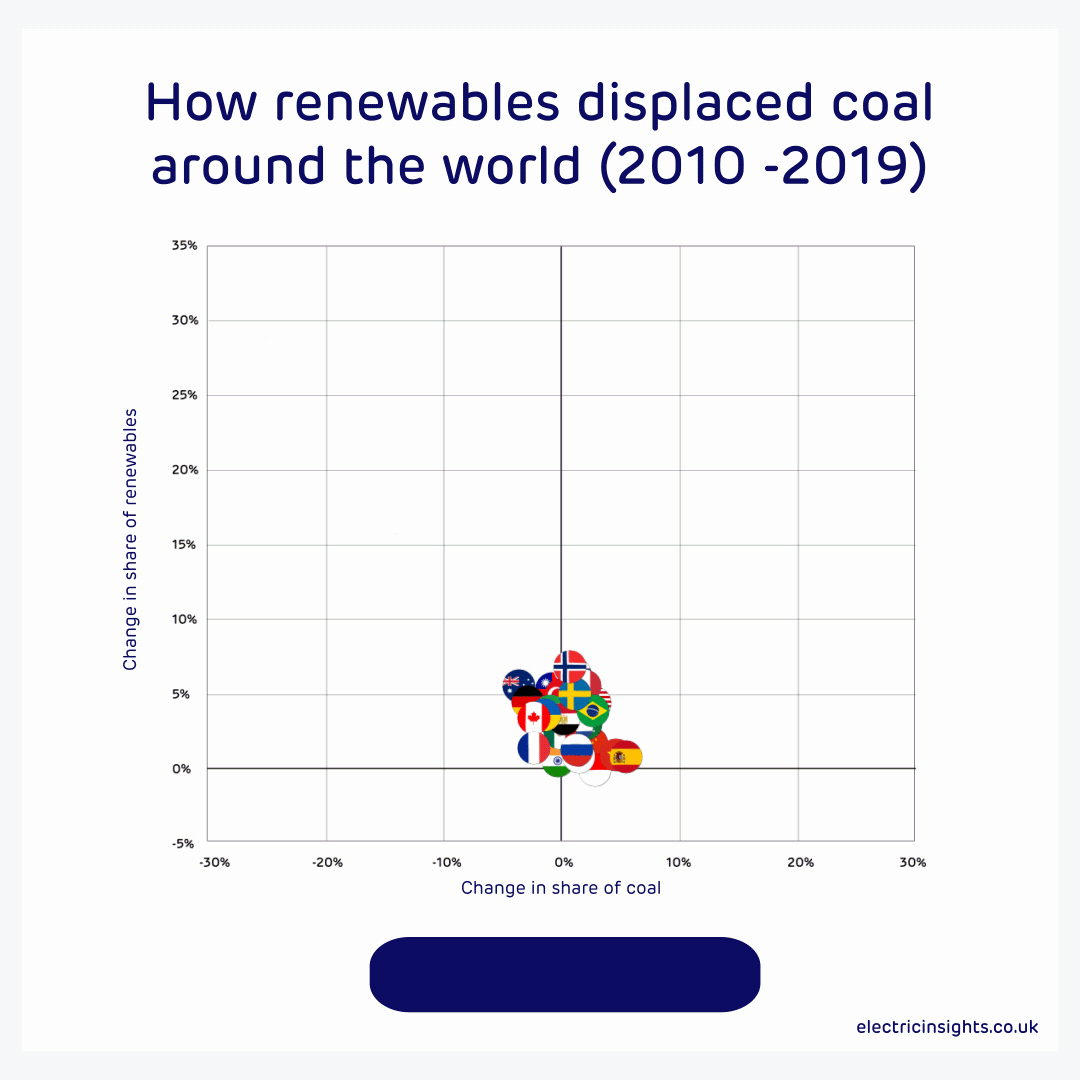 Upwards of 37 TWh of excess electricity will be generated annually amid diverging weather and demand by 2030 – with wind and solar power being unable to provide all the services needed to stabilise the system and maintain secure supplies. One solution to this challenge is to expand storage capacity by increasing the role pumped storage hydro plays in storing  excess power when supply outstrips demand and then to rapidly plug gaps when the wind is not blowing, to provide fast, flexible power and greater system stability.
Will Gardiner, Drax Group CEO said:
"The UK has made incredible progress decarbonising the electricity system over the last decade – for its part Drax has drastically reduced its carbon emissions by 85% as a result of transforming the power station in North Yorkshire to use sustainable biomass instead of coal making it the largest decarbonisation project in Europe.

"We share the Government's ambition to go even further. By embracing bioenergy with carbon capture and storage and flexible technologies liked pumped storage hydro we will enable the UK's power system to evolve and provide the secure and sustainable electricity supplies a zero carbon economy needs, supporting the government's ten point plan for climate change, whilst levelling up the economy."
Drax recognises the potential of pumped storage hydro and is considering how its iconic Cruachan site could be expanded.
The Group aims to become carbon negative by 2030 through pioneering bioenergy with carbon capture and storage (BECCS) at Drax Power Station, in North Yorkshire, which could deliver millions of tonnes of negative emissions and simultaneously provide the grid with vital stability services while creating thousands of new jobs.
ENDS
Media contacts:
Aidan Kerr
Drax Group Media Manager
E: [email protected]
T: 07849090368
Ali Lewis
Drax Group Head of Media & PR
E: [email protected]
T: 07712 670 888
Editor's Notes
The UK's carbon intensity has fallen from from 450 grams of CO2 per kWh to 195g/kWh since 2010.
The CO2 emissions per passenger emitted by a return flight from London Heathrow to Madrid is 195kg – which adds up to 780kg for a family of four.
Renewables provided their largest ever instantaneous share of power, providing Britain with 72.5% of its power at one point in the quarter.
Drax announced its ambition to be carbon negative by 2030, by using BECCS at scale at its North Yorkshire power station last year.
A feasibility study was conducted into expanding Cruachan in 2016 and Drax is considering ways to unlock its full potential to support renewables.
For more information visit electricinsights.co.uk or download the full report.
About Electric Insights
Electric Insights is commissioned by Drax and delivered by a team of independent academics from Imperial College London, facilitated by the college's consultancy company – Imperial Consultants. The quarterly report analyses raw data made publicly available by National Grid and Elexon, which run the electricity and balancing market respectively, and Sheffield Solar.
Electric Insights Quarterly focuses on supply and demand, prices, emissions, the performance of the various generation technologies and the network that connects them.
The quarterly reports from the last four years can be access at the new reports.electricinsights.co.uk website alongside the interactive electricinsights.co.uk which provides data from 2009 until the present.
You can embed Electric Insight's live dashboard on your website or blog to keep track of what's happening in the power grid through a new widget.
About Drax
Drax Group's purpose is to enable a zero carbon, lower cost energy future and in 2019 announced a world-leading ambition to be carbon negative by 2030, using Bioenergy with Carbon Capture and Storage (BECCS) technology.
Its 2,900-strong employees operate across three principal areas of activity – electricity generation, electricity sales to business customers and compressed wood pellet production.
Power generation:
Drax owns and operates a portfolio of flexible, low carbon and renewable electricity generation assets across Britain. The assets include the UK's largest power station, based at Selby, North Yorkshire, which supplies five percent of the country's electricity needs.
Having converted two thirds of Drax Power Station to use sustainable biomass instead of coal it has become the UK's biggest renewable power generator and the largest decarbonisation project in Europe. It is also where Drax is piloting the groundbreaking negative emissions technology BECCS within its CCUS (Carbon Capture Utilisation and Storage) Incubation Area.
Its pumped storage, hydro and energy from waste assets in Scotland include Cruachan Power Station – a flexible pumped storage facility within the hollowed-out mountain Ben Cruachan.  It also owns and operates four gas power stations in England.
Customers:  
Through its two B2B energy supply brands, Haven Power and Opus Energy, Drax supplies energy to 250,000 businesses across England, Scotland and Wales.
Pellet production:
Drax owns and operates three pellet mills in the US South which manufacture compressed wood pellets (biomass) produced from sustainably managed working forests. These pellet mills supply around 20% of the biomass used by Drax Power Station in North Yorkshire to generate flexible, renewable power for the UK's homes and businesses.
For more information visit www.drax.com/uk